Climbing Area Index / Cathedral Ledge / Repentance (WI 5 III)
---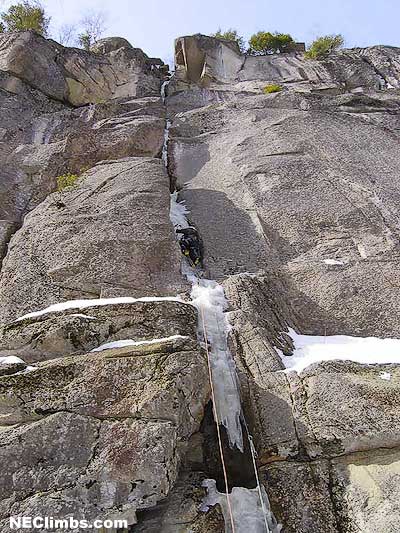 George Hurley motoring up pitch 1, Spring 2003


Photo by Al Hospers
The left of two large chimney climbs located 300' left of the North End cracks.
A classic New England runnel climb with an alpine ambience. Steep, unrelenting, with many complex and committing sections.

Pitch 1: Climb the runnel to a 2-bolt belay at a ledge on the left.

Pitch 2: Pull over an often thin curtain (crux) into the narrow runnel. Follow the runnel to a belay on the left.

Pitch 3: Step right, climb a curtain and follow the ice up to a large chockstone. Pass the chockstone on the left (crux) and belay in the trees.


standard ice and rock racks
walk off to the right down the climber's trail
WInter 1973 - John Bragg, Rick Wilcox