Climbing Area Index / Cathedral Ledge / Remission (WI 5+ IV)
---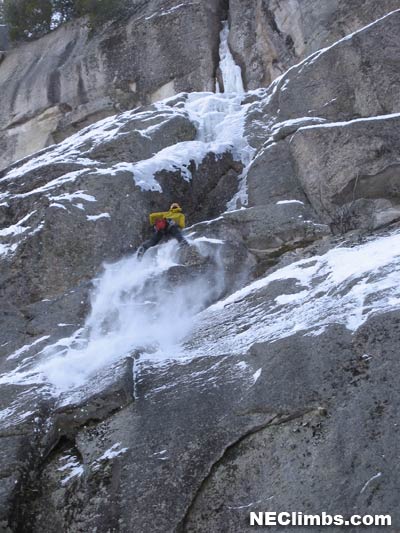 Raphael Slawinski


Photo by Al Hospers
The right of 2 chimneys 250' left of the north end cracks.
If you think Repentance is hard, this one is wicked hard! Even when it's in, it presents exceptional difficulties - and it is rarely in.

Pitch 1: Climb the left facing corner, step right and continue up to a large ledge and 2-bolt belay right of the column.

Pitch 2: Climb the column and get into the chimney. Continue up to a ledge on the left.

Pitch 3: Finish up to the trees above.


standard ice and rock rack
Walk off to the right down the climber's trail.
WInter 1976 - Rainsford Rouner, peter Cole, Tim Rouner