Climbing Area Index / North Bald Cap / Ingy's Ice Cream (5.7)
---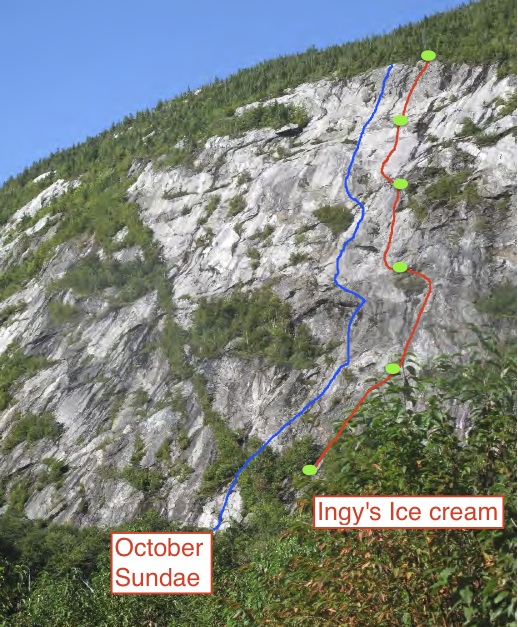 Photo by Dave Gougan
Look for a white slab near the lowest section of the cliff. That is October Sundae. Ingy's starts 25' right and back left up a ramp to the start at a slab that's 30' up in the woods.
Pitch 1: Up the easy slab to break out onto the main face above. Continue straight up to a gear belay below a continuing flake system. 60meters

Pitch 2: Climb the flake system straight above passing the right side of a large tree island and arching back left to a gear belay in rust colored rock. 60 meters

Pitch 3: Move left and climb a beautiful white flake forming the right side of the central groove. Layback the flake to the end and move right up a buttress and finish with a quartz dike to a gear belay and ledge. 5.7 60 meters.

Part of this pitch was previously climbed by Jack Dorsey and Chuck Woodman as a variation to October Sundae.

Pitch 4: Move left off the ledge and go up the center of the white slab above. Starting with a couple of hollow flakes then passing a bolt at the swell. The slab eases bringing you to a blocky gear belay. 5.7 55 meters

Pitch 5: Continue up to the grey blocky headwall above and belay in the woods. 60 meters Descent. Walk climbers left 25 feet to the rappel anchors on October Sundae. 5 double rope raps brings you down to the base.


standard rack & 2 ropes
rappel the route with 2 ropes
September 14,2012 - Dave Gougen and Dick Norlin