Climbing Area Index / White Ledge (Albany) / Old Route (5.7)
---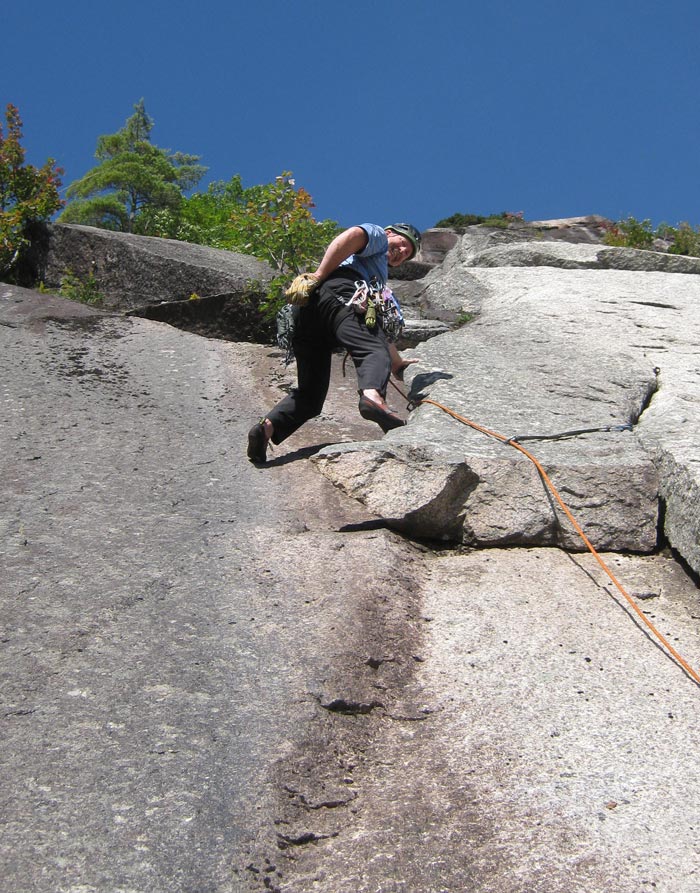 Brad White


Photo by Matt Peer
Start 50' up and left of the toe of rock. (many variations)
Pitch two and three can be combined with a 70 meter rope and lots of long slings. Route description and P1 and P4 anchors are from Brad White and Matt Peer Summer 2011.

Pitch 1: Climb 25' up a short slab to a tree ledge and follow a vegetated groove to a two bolt anchor on the left side of a large white flake system. 50' 5.4

Pitch 2: Step right from the belay and layback the entire left side of the flake to a shallow corner. (Great Climbing!) Climb the open corner till a small finger crack crosses it. Follow the fingercrack up and left for 25' then back right to a gear belay in a thin left facing flake. 115' 5.7 (medium sized gear for belay) (Var. #1) Climb up right side of the big white flake above small trees for 15' and cross over left to a fixed pin in the center. Step left into the layback flake and climb straight up to the shallow left facing corner. (Var. #2) 5.8 PG 13, Layback and climb straight up to the fixed angle piton, then face climb up the left arête of the flake. When you come to where the finger crack crosses the corner continue straight up to protection on the left side of the triangular block and then up and left to the belay flake. (Var. #3) Climb entire right side of flake as for "Manifest Destiny" and cross over at the left slanting crack. This is the easiest way to get to the open corner above.

Pitch 3: Climb up slightly right 20' to a white jug below a shallow groove with a hidden red tri-cam pocket. From the pocket, slab climb up and left to a small overlap then straight up white face above to a large flake that is followed left to the large pine tree. 60' 5.5

Pitch 4: Climb up low angle ramp on left for 30' to an open corner. Climb right side of corner up through overlaps to a two bolt ring anchor. 70' 5.5 PG 13


A normal rack to #3 Camalot size is sufficient for the climb.
Rappel the route with a single 70 meter rope, 2-60 meter ropes, or walk off
Unknown, but a fixed pin and pin scars say "long ago".