Climbing Area Index / White Ledge (Albany) / Go West Young Man (5.7)
---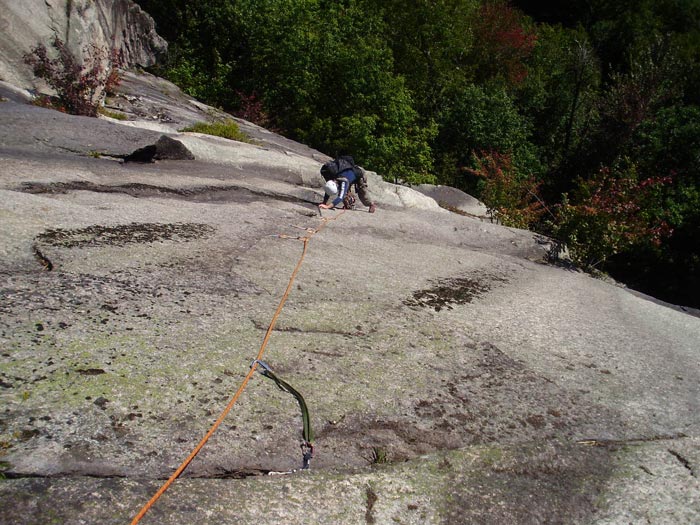 Matt Peer


Photo by Brad White
Same start as most Main Wall climbs, start at the toe of rock.
Pitch 1: Climb the slab via the center clean streak to a bolt at 25'. Climb slightly right to a short headwall, joining Illusion of Prosperity at a ledge. Climb flakes and thin cracks up and then left to a tricky step over at the left edge of the headwall onto a slab. Climb the easy slab to the right tree on the big ledge. Continue up the left facing corners above the tree moving slightly right to a two bolt anchor on a nice wide ledge. 5.7 140'

Pitch 2: Follow the thin finger crack up and left across the entire face till the crack fades out at the top of a large low angle left facing groove under short twin finger cracks, belay here on gear. Bring many very small nuts and cams. 5.7 120'

Pitch 3: Climb the right hand finger crack to small overlaps. Move right through overlaps and then straight up a slab to large pine tree belay. 5.6 60'

Pitch 4: Step up right from the pine tree belay to two small trees on the same ledge. Squeeze behind the trees to step up and right onto the rock. Climb up 25' to a short wall/overlap. Pull this on good edges below a short flake (good gear) on the top. Wander up the slab aiming for a prominent right facing thin flake in the overlaps. Layback a move up the thin flake then step left to good holds pulling two overlaps to the blocky white arÍte. Follow the arÍte to the woods. It is possible to finish from here by climbing out right and joining the easy slab to the top of the ledge on Manifest Destiny or just scramble up thru the woods to the top.


A normal rack to #3 Camalot size is sufficient for the climb.
Rappel the route with a single 70 meter rope, 2-60 meter ropes, or walk off. You can also move left and do a short rappel from trees to the anchors on Old Route then linking anchors to the ground in four more single 70m rope rappels.
2012 - Brad White and Matt Peer (in the Summer and 2012)