Climbing Area Index / Humphrey's Ledge / Silent Treatment (5.6)
---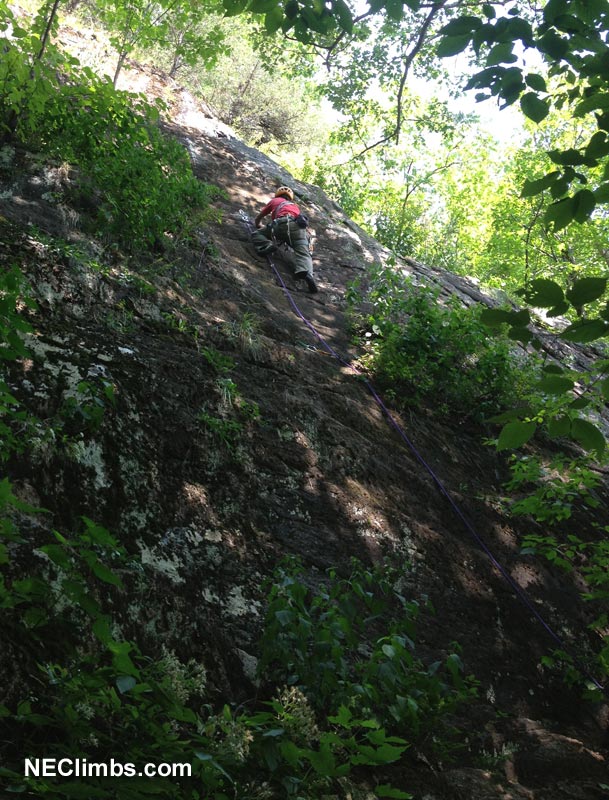 Joe Perez


Photo by Al Hospers
Silent Treatment is located at the far left side of the Geriatric Walls, between Daddy's Got New Shoes and Three Brushes. Tho it looks mossy, it's much better than it seems.
Master climber George Hurley and long-time guide and first ascentionist is known for his unlikely adventure climbs. He was 78 years old when he found this line. As is almost always the case, he didn't clean or pre-inspect the route before he led it, preferring to just start up and see where it went. In this case there was surprising gear in the first 40', but no gear for the final headwall so he traversed a bit right to place a piece in the Three Brushes crack. When Al followed he did a lot of cleaning, uncovering additional placements and stances.

George and Al discussed that there should be a bolt or two in the headwall so the climb could take the most obvious and direct like, but they didn't have a drill at the time. A week or so later Al and Joe and Judy Perez went over and added the necessary bolts.

Pitch 1: Climb the face, clip 2 bolts and surmount the black headwall, continuing to the 2-bolt anchor shared with Three Brushes.


smallish cams and draws
rappel from 2-bolt anchor
August 6,2013 - George Hurley & Al Hospers