Climbing Area Index / Mt. Willard / Salespitch (5.9)
---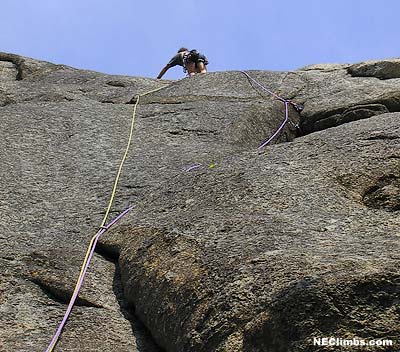 Paul Cormier on his home turf


Photo by Al Hospers
This is the farthest right-hand route on Mt. Willard's upper wall, near One Fork In Eden and the upper pitches of 6,000 Salad Bowls. 90' to the right of the start of One Fork In Eden (and 50' right of the P7 corner on Salad Bowls) are a series of rounded cracks and flakes, just left of a ceiling angling upward from the ground on the right.
While originally a unprotected 200' pitch there are now bolts and a 2-bolt belay at about 160'.

Pitch 1: Climb rounded cracks and flakes, stepping right and then back left to an undercling on the left at the crack's end. Above a bolt, continue up the steepening face to a cam placement 30' higher. Continue up to the belay bolts.


standard rack
Continue the slab to the trees at the top or rappel back to the ledge on double ropes.
1980 - Todd Swain placed the original bolt in 1980. Mick Avery, Harry Brielmann and Filex Modugno completed the pitch as an act of desperation in 1983 when they accidentally got on the climb and realized that there was no place else to go other than up. Additional bolts and the belay were added by Paul Cormier much later.