Climbing Area Index / Mt. Willard / The End Of The Universe (5.10)
---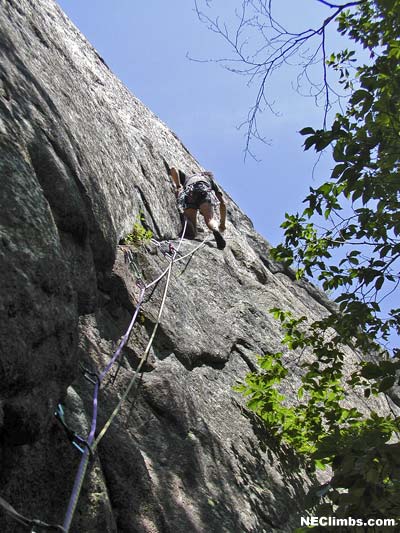 Paul Cormier just before the "unlikely traverse!"


Photo by Al Hospers
Starts at the same 3-trunked oak tree as for One Fork in Eden.
A very nice continuation of Across The Universe. Takes you right to the top of the cliff.

Pitch 1: Climb a beautiful 45 degree right leaning crack for 25í. At the second bolt make an unlikely traverse right for 10í and then up through a weakness in the overlap to the belay. 90í, 5.10

Pitch 2: Face climb past bolts, traverse right to the cracks, then up to a roomy belay. 90í, 5.10

Pitch 3: Climb straight up the crack. Here Salad Bowls diagonals left, but instead forge straight up the face, following a shallow weakness and cracks to the top.


standard rack, double ropes are useful
rappel the route or walk off from the top of the cliff
September 14,1989 - Paul Cormier, John Eagleson