When I first began climbing I had no idea there was such a thing as climbing literature. A few years into it, I was hanging out with all these AMC types. It seemed they were all a hundred years old and knew a lot more than me. I made a fool of my self in a conversation when I admitted to not knowing who Fred Becky was. This is like a basketball fan not knowing who Red Auerbach is…or a young Republican unfamiliar with Ronald Regan. I figured I oughta read up on things before I make a complete ass of myself, but where to start? I looked over the bookshelves at the local climbing shop and picked up a copy of Chris Jones' "Climbing in North America". This was a good choice. It wasn't literature or anything, but gave me a good overview of the sport and a lot of names to look up. At least now I knew who this guy "Whitney Gilman" was.
So I started reading and about 10 years later I have a few opinions on what's worth reading among climbing literature (and books too). I have asked others to recommend their favorites and this has expanded my list. I will refrain from saying these are the best books; they are just the ones I like and can recommend.
First off, I will not make any recommendations regarding books on technique or other reference material (although "Climbing in North America" and "Mountaineering, Freedom of the Hills" should be read by all. (There I go recommending things in a category I said I would not get into.)
Here is my personal list of favorites: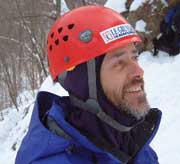 Richard Doucette
Kinsman Notch
No Picnic on Mount Kenya - Felice Benuzzi
Amazing story. Check this out, an Italian diplomat is imprisoned in a POW camp in Africa in WW2. Gets bored, sees this really nice mountain off in the distance. Decides to escape and climb the mountain. Gathers up a few prisoners to go with him. Scrounges and manufactures gear and provisions. The approach is through uncharted parts of deep/dark Africa. You won't believe what they do after the climb…
The White Spider - Heinrich Harrer
A look at all of the ascents of the Eiger's north face. See what one can do even if you forget your crampons…and have Anderl Heckmair to lead the hard stuff.
Starlight and Storm - Gaston Rebuffat
Accounts of climbing the 6 great north faces in the Alps, by the first person to climb all of them. Rebuffat's great joy of climbing shines through. (If I had categories for guidebooks or coffee table books, Rebuffat's "Mont Blanc Massif, The 100 Finest Routes" would make the list in both.)
Annapurna - Mauric Herzog
I believe this was (at least until recently) the highest selling mountaineering book in History. The story of the first ascent of an 8000 meter peak. Those French are a tough lot. The book was a bit too…something…I never could quite put my finger on it. Herzog just made everything sound too positive. People were losing fingers and toes left and right, it can't be all THAT positive. Turns out maybe it wasn't. Consider reading "True Summit" by Dave Roberts. Some might not appreciate revisionist history. Herzog may have been brought down a notch by Roberts, but then again so was Rebufatt. Terray comes out on top though.
The Breach: Kilimanjaro and the Conquest of Self - Rob Taylor
If you read this one, just remember that it is only one person's account of a tragic climb. The writer comes across as too angelic, and his climbing "partner" was likely not the evil one he was portrayed to be. But a great book nonetheless.
(Editors Note: There are often two sides to any climbing story, and the tragedy on Kilimanjaro is no different. This event caused a great stir in the American climbing community and caused Henry Barber to wihdraw from the limelight altogether. You can read his side of the story in his hard to find biography, On Edge, The Life And Climbs Of Henry Barber. Or, if you see one of his current slideshows, he is quite likely to talk very frankly about it.)
Seven Years in Tibet - Heinrich Harrer
Just barely made the list of "climbing" books because it starts out as a climbing expedition but goes far beyond that. One of the great stories of all time.
Touching the Void - Joe (I've fallen and can't get up) Simpson
This appears on everyone's list of favorites. An absolutely amazing story. I will never bitch again if I sprain my ankle and have to limp an hour back to the car. When you have a bad day, or a bad climb, or a bad trip, remember this story. Your day coulda been worse than it was.
Also in the "I am lost and screwed, now what do I do" category, are a few of my other favorites. In "Into the Wild" by John Krakauer, the protagonist doesn't climb, but Krakauer gives some personal accounts of his own climbing. Great book for the nonclimber. Any book about Shackleton is a great read (Alfred Lansing's account is my favorite). This amazing story ends with a brief but still significant climb. "The Long Walk" by Slavomir Rawicz is hard to believe but true. Similar to Harrer's "7 Years" but with no rest after the escape. Not much actual climbing, but after reading this you will never ever complain about a "long" approach. Trust me.