"If you don't go, you won't know!"

That should be my mantra these daze, or at least for Brad White and me. We put it to the test last Friday when we went up to check out the possible rock climbing at Willeys Slide. I know, I know…Willies is best known as the classic beginners alpine ice/snow climbing area. However, there have been a couple of rock routes done there in the past, and it's a place we both have thought of on occasion. And after all, after you've climbed in this area for a combined total of 70 years, you're always looking for a new adventure.
Petzl Connect Adjust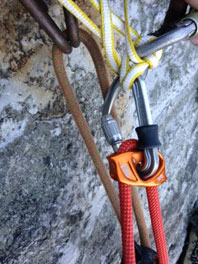 Petzl has come out with a new device for anchor attachment and to extend a rappel device for rappelling. Does it really make things easier, or is it just another finicky device that you'll check out and then rarely use?
Route of the Moment


Thin Air - 5.6
Inarguably the most popular climb on Cathedral Ledge and perhaps in the Valley. Plan on getting an early start if you don't want to be in line in the summer. In 2003 the bolts long protecting the traverse were chopped, so be prepared to place gear all the way across. In addition the 3-bolt anchor on top of the 3rd pitch was also chopped so once past the end of the traverse ledge you are committed to finish unless you are prepared to abandon gear!

---

Checkout the 5 Latest Additions:
Rattle Can
Even the Rain
Rope
Silent Treatment
Dirty Feet

Our Routes Database currently contains
663 rock routes from 43 areas
123 ice routes from 16 areas.
Our NEClimbs and White Mountain Report 2015/2016 individual fundraiser is officially over. Without YOUR direct contribution, I simply wouldn't be able to maintain and update the site and put out a weekly newsletter like these. THANK YOU once again for your generous support.

If you didn't get around to making your contribution during the regular time, you can still help out. Simply click the DONATE link below and follow the instructions. Climb save and have fun...
DONATE NOW...
And what joy, think ye, did they feel after the exceeding long and troublous ascent? - after scrambling, slipping, pulling, pushing, lifting, gasping, looking, hoping, despairing, climbing, holding on, falling off, trying, puffing, loosing, gathering, talking, stepping, grumbling, anathemising, scraping, hacking, bumping, jogging, overturning, hunting, straddling, - for know you that by these methods alone are the most divine mysteries of the Quest reached.
—Norman Collie, 1894, from the Scottish Mountainering Journal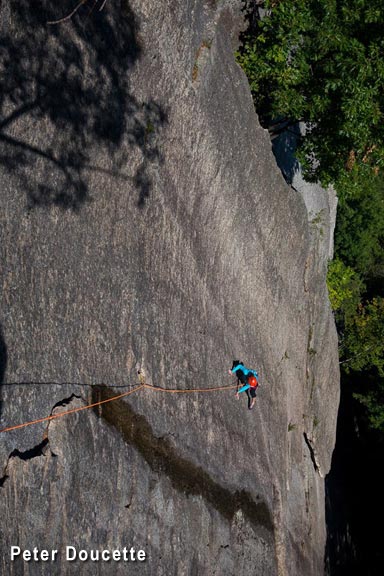 Majka Burhardt's first day back climbing after giving birth to twins!
Thin Air, Cathedral Ledge
V-thread ice anchors are an easy, secure and inexpensive rappel anchor for ice climbing. In this article I will describe how to make the anchor, how to use it, what kind of gear is needed, and how to make your own tool. Everything about v-threading is easy and they have become popular at ice crags all over the world.
read it...

No upcoming events available. If you have an event, please sent us an email and we will be happy to list it.

The White Mountain Report is a weekly email newsletter that provides you with the most up to date information about rock and ice climbing in New England. To get it delivered to your mailbox every Thursday all you have to do is SUBSCRIBE. It's fast, painless, and best of all it doesn't cost you a dime!
SUBSCRIBE...